In this step-by-step guide, we would like to show you how you can best use the Cloud 2 Cloud registration in PinPoint.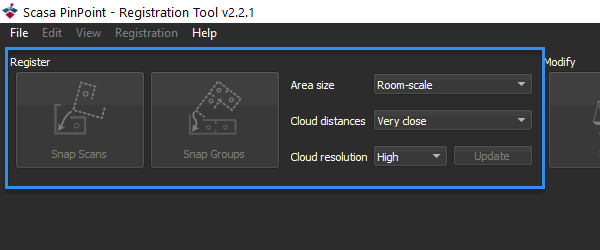 Overview of functions and settings
Snap Scans
The Snap Scans button starts the Cloud2Cloud calculation for the scans activated with the Move checkbox. The Snap Scan function can be used in a group but also across groups.
The scans selected with the active move function are based on the unselected, visible scans.
Snap Groups
The Snap Groups button starts the Cloud 2 Cloud calculation between groups. With this function, the scans are no longer moved within a group. So only the groups are aligned with each other.
Here, too, the groups activated with Move are aligned with the visible groups not activated with Move. It is sufficient to activate a scan (overlap scan) within a group in order to move the entire group via Snap Groups.
Cloud 2 Cloud Calculation Settings
In standard mode, the Cloud2Cloud settings are divided into Area Size (object size), Cloud Distances (point cloud distance) and Cloud resolution (point cloud resolution).
To better understand the settings, switch to Expert Mode by going to the Registration -> Expert Mode menu.
Area Size / Probe density
Here you specify the density of the points of attraction with which the Cloud2Cloud calculation is carried out. The greater the density, the more computing time is required and the more robust the result. However, since the result does not improve significantly above a critical amount, there are presets depending on the size of the scene:
Stadium Scale = 0,70 meter point distance
Building Scale = 0,30 meter point distance
Room Scale = 0,15 meter point distance
Recommendation: Start with a larger distance if you want to align the scans quickly one after the other. Reduce the distance if you want to align all the scans simultaneously to one another at the end. e.g.
Calculation with building scale
Calculation with Room Scale
Cloud Distance
Cloud Distance specifies how large the area of influence of the points of attraction is. For example, if two point clouds are 0.5 meters apart and the Cloud Distance value is very close (about 0.15 meters), the scans are too far apart to attract each other. With the setting Nearby (about 0.7 meters), the Cloud2Cloud calculation would take place.
Recommendation: Always start your calculations with Nearby and end with very close. Here, too, applies from big to small.
Nearby = 0,80 meters maximum distance
very close = 0,15 meters maximum distance
Cloud Resolution
With the cloud resolution you control the resolution of the point cloud. The setting "High" is recommended for registration. If you want to clean up the point cloud, the setting "Moderate" should be used for a particularly interactive workflow, which we will describe in another tutorial.
Moderate = 0.20 meter point distance
High = 0.10 meter points distance
very high = 0.05 meter point distance
Tutorial: Import and registration of Leica RTC360 data with PinPoint Suite
Tutorial: Cloud 2 Cloud Registration of groups in PinPoint Suite