In this short tutorial we will show you how to import your first E57 project into PinPoint and explain how you can open projects that have already been imported.
Please check our tutorials for the import of Leica BLK360 data and Leica RTC360 data.
Attention: Below the video we have listed some screenshots for advanced import settings.
1. Create - Select your point cloud
PinPoint currently supports point clouds in E57, XYZ or PTX format.
Click on Create and select your corresponding point cloud (s). Multiple selection Windows usual with pressed Shift or CTRL key.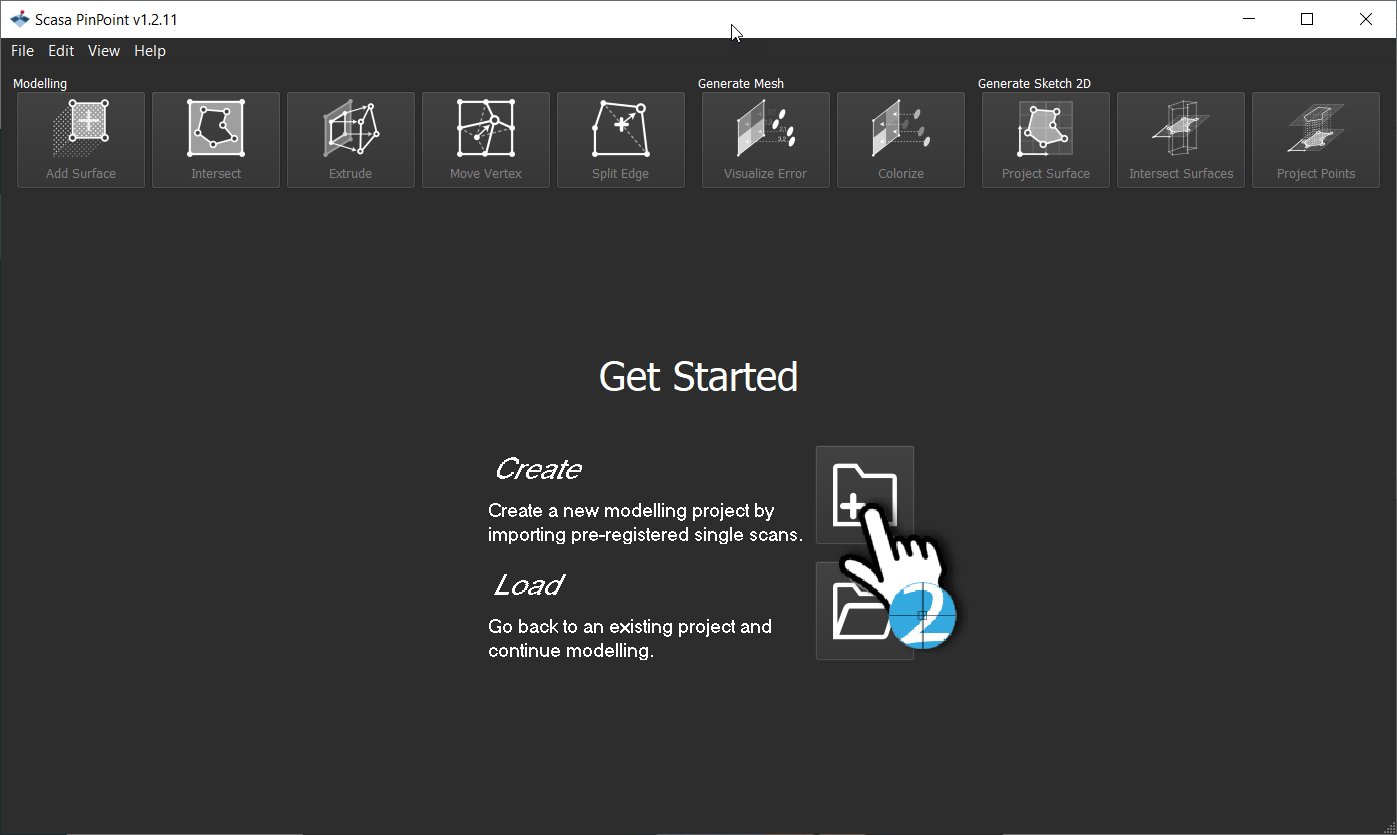 2. Show more Options - Advanced import settings
You can find the advanced import settings under the Show more Options button.

2.1. Point Density - Sensible point density
Note: Please note our article: What is the correct resolution for a laser scan?
You can leave the point density at 15 mm for now. This setting has proven itself for most laser scanners.
Only Matterport customers should adjust this value to 0.020m as well as customers with drone data, since a point density of 15mm is not required for large areas such as those created by a flight.
2.2. Data accuracy - select settings appropriate to the device accuracy
The data accuracy should be set to high for the Leica RTC360, Faro Focus S.
For the Leica BLK360, Matterport Pro2 and Faro Focus M, please use the Medium setting.
For flight data, we recommend the setting Low.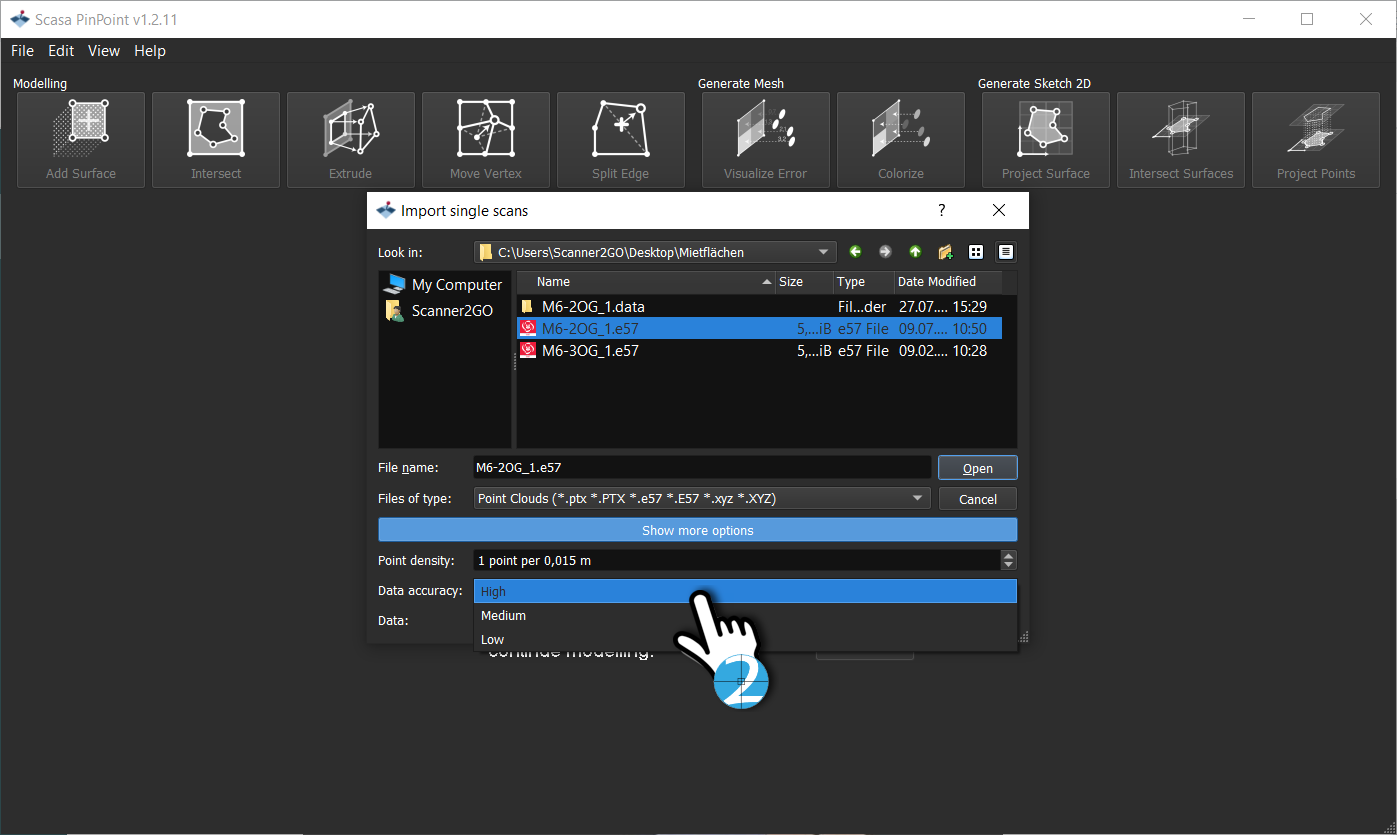 3. Save the project file * .smf
Finally save your PinPoint project and give it a name. PinPoint now analyzes your data and creates a preview view that allows you to cut out unnecessary areas. Click on Save to start the process.

5. Define import limits
As soon as the point clouds have been read in, you can define a bounding box for the processing of the point clouds. So draw a fence around the relevant objects and try to avoid trees as possible, reflections from windows and vegetation.
Control and operation
Please also note our tutorial on operation, navigation and view control.
Left mouse click - set the limit point.
Hold down the right mouse button and move the mouse - rotate the project.
Middle mouse button or pressed right mouse button while holding down the CTRL key and move the mouse - move the project.
Once the limits have been selected, confirm your selection by clicking the green button.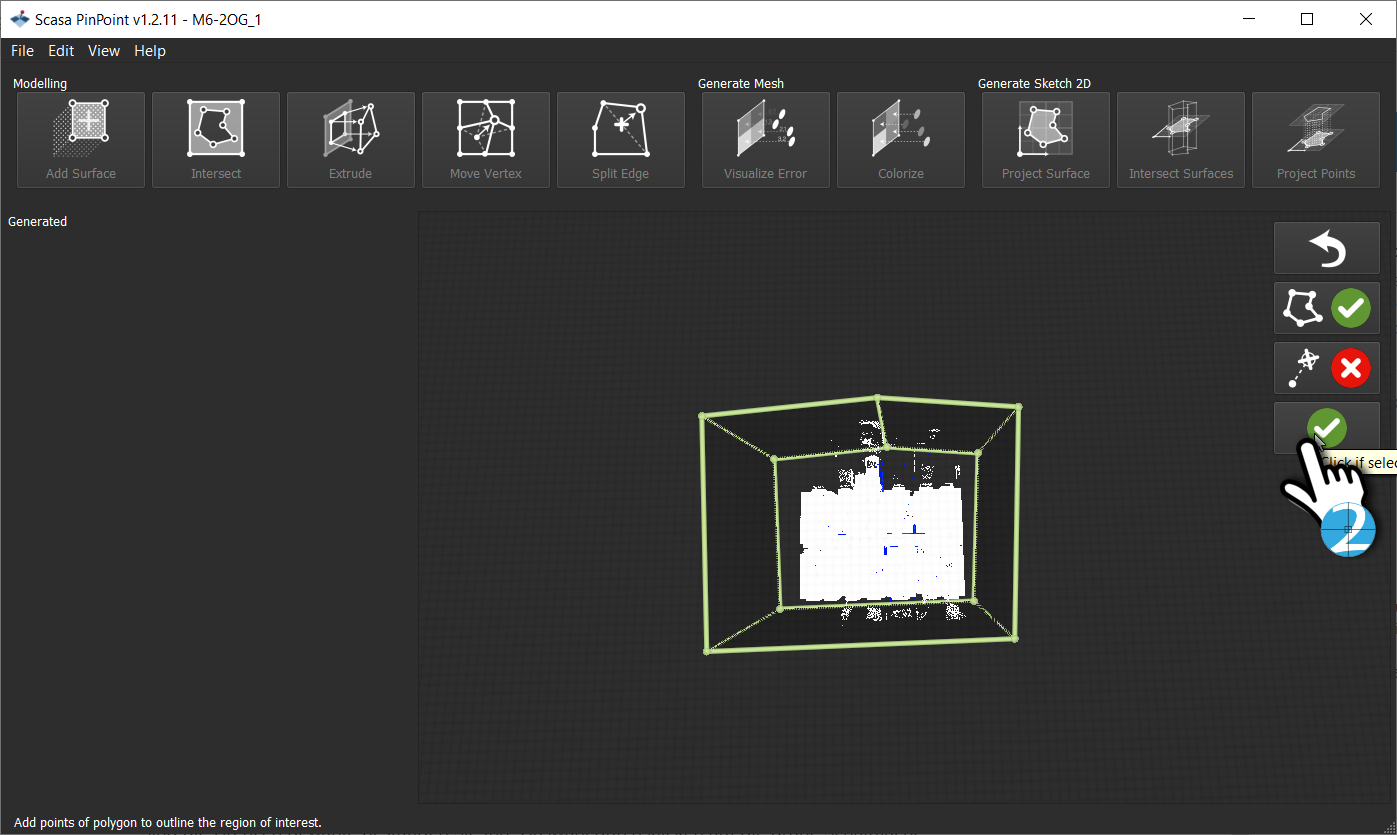 PinPoint now imports and analyzes the point clouds. This process is computationally intensive and accordingly takes time.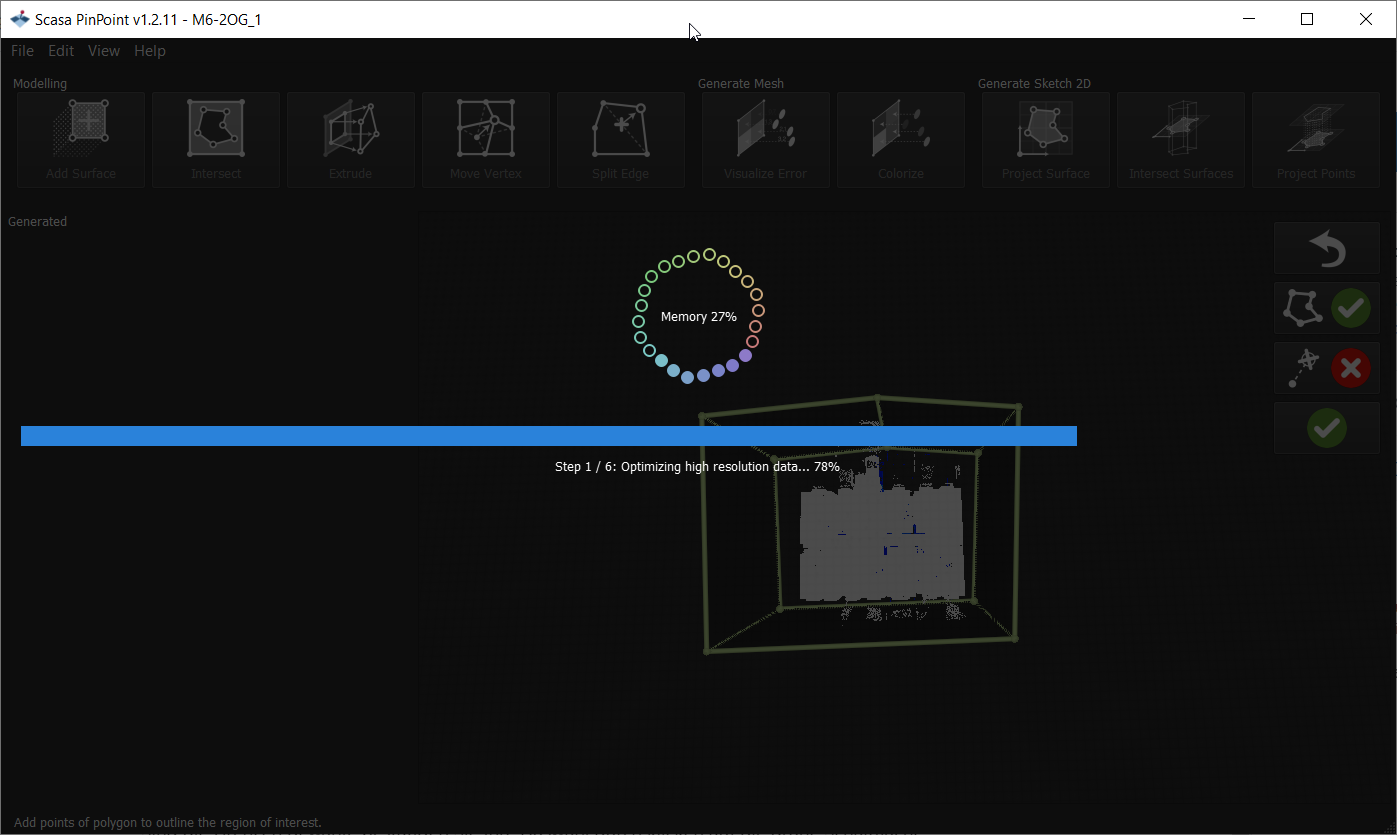 The import process is now complete.
A PinPoint project always consists of a project file with the extension Projektname.smf and a corresponding data folder Projektname.data.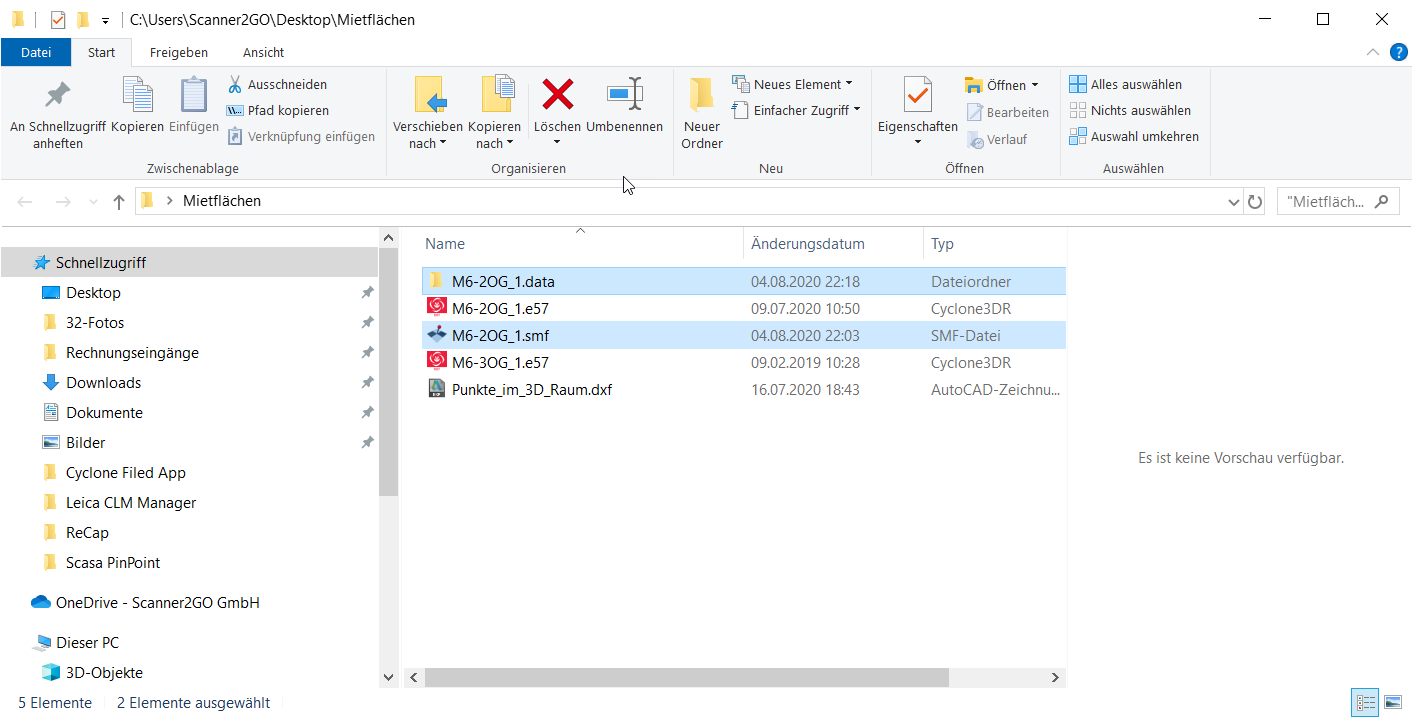 That brings us to the end of this tutorial. Next we recommend the tutorial:
Define a new coordinate system.
Try PinPoint now